FAFC 1984 Limited Edition Gin
Tuesday, 10 July 2018 12:35
The Club has been overwhelmed by the interest in our FAFC 1984 Limited Edition Gin and would like to thank everyone who has purchased a bottle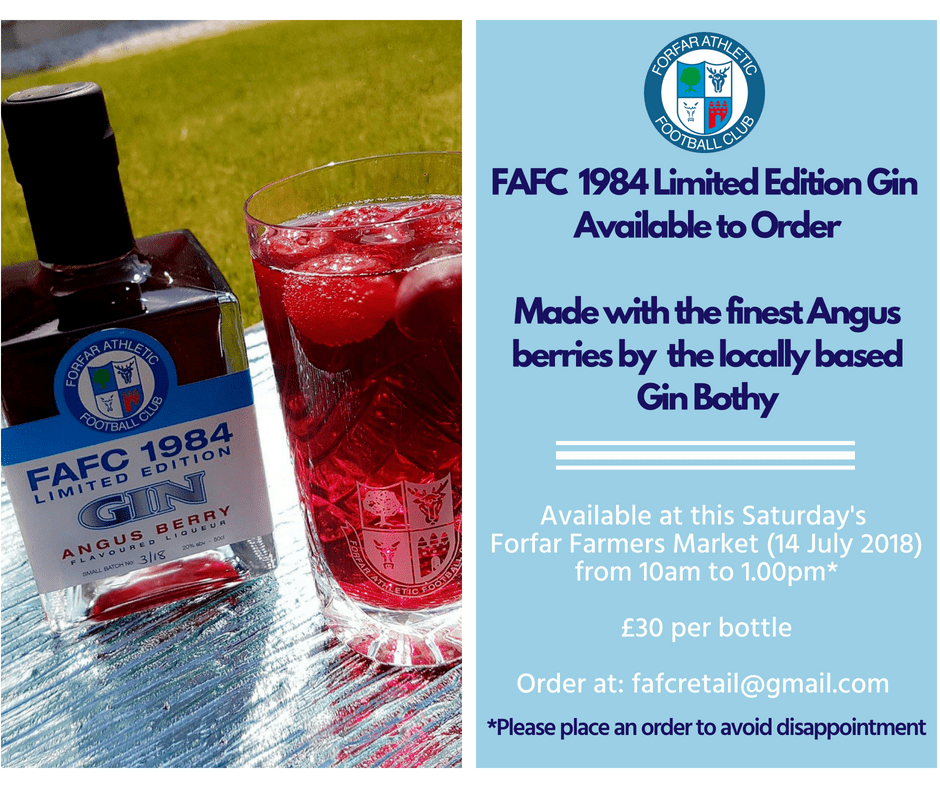 to date.
We would also like to thank our friends at The Gin Bothy for all their help in producing, marketing and selling this wonderful local product which is supporting Club funds.
With the next Forfar Farmers Market taking place this Saturday, 14 July, we are now finalising another batch of orders. So if you have not yet managed to get your hands on a bottle of this delicious tipple please email us at us at This e-mail address is being protected from spambots. You need JavaScript enabled to view it to place your order.
As the name suggests this is a limited edition product!
All orders placed in advance will be available for collection on Saturday at the Forfar Farmers Market from 10am to 1.00pm.
The market takes place in Forfar Mart's Strathmore Hall right next door to Station Park so after you visit the market why not take drop by the FAFC 1984 Lounge and then take in the afternoon's friendly between Forfar Athletic Football Club (Official) and HeartofMidlothianFC
#Loons #FAFC #Forfar #Forfarfamily #Keepitlocal #GinBothy #Angusberries